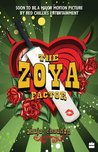 The Zoya Factor
by
Anuja Chauhan
My rating:
5 of 5 stars
When I started reading this one, I really thought it was one of those books containing ramblings of an ad agency's poor lamb, ranting about the crazy ad world with a 'get-it-done-ASAP' boss. Little did I know that I would be forsaking all my other work to turn the pages of this one, so soon!
The reason why I loved this book is because of its storytelling style peppered with enough humour to tickle your funny bone in the unlikeliest situation, in the most unexpected way.
NZ= New Zealand. Poor Zoya! How was she supposed to know that it would mean something more than that?
When I saw its cover, I freaked out wondering how I would make a head or tail out of this story because what I read was- 'All's fair in Love and Cricket'. Yes, Cricket. Well, I do belong to a country that breathes Cricket and the game's spirit couldn't have been described better than by the author of this book. Kudos Anuja Chauhan for that!
The madness, the debates and the gossips that grip nations when a world-cup is on; the fuel that just needs a little flame to burn up entire careers is all here and that too very well structured by Anuja. How could I forget to mention 'Luck' here, the heart and soul of this tale -- oh well, much of it rather. ;)
A light-read with liberal doses of laughter, craziness and of course Cricket thrown in, this is a must read for all those who appreciate nonchalant, laidback and at the same time a peppy writing style.
-Divya Nambiar
Author:
Other books by the author:
,
,
View all my reviews